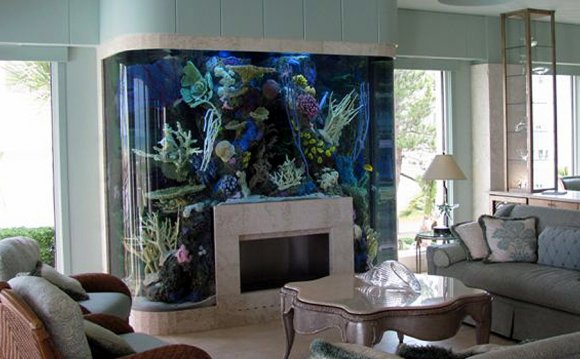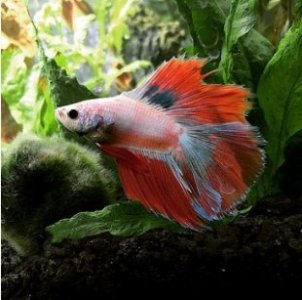 There are not many fish as colorful and pretty as betta fish. There are also not many fish as picky as them.
However, their beauty is worth the trouble.
One of the special characteristics of betta fish is how easily they can be irritated if put in the same tank with other fish. They are not very fond of 'roommates' and should be kept alone.
That is why it's important to look for a different type of tank for your betta fish, unlike the usual tanks used for other fish. To help you choose a tank easier, here I have shortlisted the best betta fish tanks on the market today.
The EcoQube is only about 2 gallon in size. Similar to many other betta fish tanks, this tank is small and convenient in size so that it can easily be displayed on a table or simply your office desk. With the landscaping and the fish, the tank itself is a pretty decoration.
This tank comes with a complete aquarium starter kit including aquaponics filter, sand decoration, mountain stone, glass cover, wireless remote LED light and basil seeds. Unless you want an upgrade, buying this tank, you will need to buy nothing more to start setting up a comfortable living environment for your betta fish.
This tank includes an aquaponics filter making it convenient and low maintenance. The aquaponics filter will enable the plants to absorb all the fish waste so you don't have to clean and even change the water often. You only need to feed the fish.
The problem with this tank is the waiting period. After setting up the tank, users are instructed to wait three weeks so the basil seeds can sprout and grow enough to filter and absorb fish waste later on. You need to plan ahead, buying and setting this tank long before getting a betta fish. For many people, a three week period can kill off a bit of excitement of getting a fish.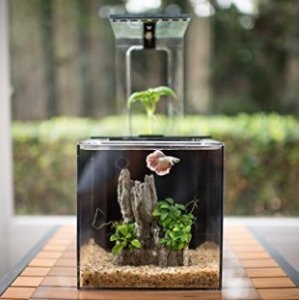 Secondly, there are a few complaints about the LED lights that come with the fish tank. They are good LED lights but obviously not the best. If your standard of tank lighting is higher, you may not be satisfied with the lights.
Pros
Small size, convenient
Come with complete starter kit
Aquaponics filter system
Self-clean, low maintenance
Cons
3 weeks waiting period
LED lights work not too well
Expensive
2. Back to the Roots Water Garden Fish Tank
The startup duo that created the Back to the Roots Fish tank introduced this tank as "not your typical betta fish bowl." This mini 3-gallon mini aquaponic tank is a closed-loop ecosystem.
Aquaponics is a combination of aquaculture and hydroponics. That means, this fish bowl is designed to let the fish waste fertilizes the plants on top of the tank, and the plants will filter and clean the water for the fish underneath. Thanks to this feature, this tank is self-cleaned.
The tank comes with a complete starter aquaponic kit that includes a 3-gallon fish tank, organic seeds, fish food, natural fertilizer, a submersible water pump, gravel, grow stones, and even a coupon for your betta fish.
Having this tank and keeping a fish in it is killing two birds with one stone. The complete cycle of aquaponics of this tank will help you not only not having to clean up after the waste but also give you a little herb garden on top. This garden is also self-sustained so you just need to collect the herbs.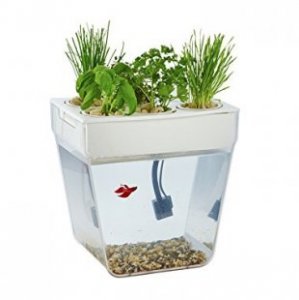 As fun and innovative as this tank may sound, it does come with its fair share of flaws. One of the biggest concerns people have with this tank is that it needs a heater. Betta fish needs warm water, around 76F to 82F. The majority of people living in cold weather will need to buy a heater for their fish.
However, the design of this tank has no space for a convenient way to put in a heater and thread the power cord. With a heavy, garden like a lid on top, persistently threading a power cord in for the heater means you will have to accept an unclosable lid.
Aquaponics system
Starter kit included
Self-sustained herb garden on top
Poor design
No place for heater
3. Fluval Spec III Aquarium Kit
Compared to the two previous tanks I introduced above that use aquaponics system, the Fluval Spec is a simple and straightforward desktop tank. It is a contemporary looking fish tank that is small enough to comfortably rest on small areas such as desktops or some countertops.
This aquarium weights about 10 pounds and it has a volume of 2.6 gallons. It is aluminum trim, so it is pretty light.
This tank is just a simple rectangular fish tank that comes with an impressive complete starter kit. It comes with an overhanging lighting system that consists of 31 LED lamps. These lamps provide more than enough lighting for the fish, decoration, and plants in the tank.
There is also a powerful circulation pump with adjustable output nozzle and a filtration system included with the tank. Thanks to these two systems, the water can be constantly clean and kept filtered from the dirt and fish waste.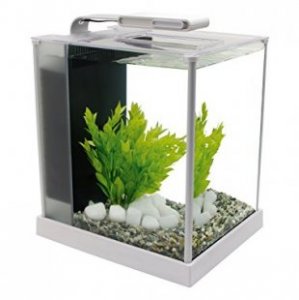 The LED lights work great most of the time. However, there are cases reported that the LED lights are faulty and they cannot light up at all or the lighting is weak. The LED lights that come with the box are not the top notch type of lights so even when they work fine and are not faulty from the beginning, they normally do not last much more than 6 months.
The 2.6-gallon size makes the tank easy to be displayed on a table. However, its small size is also a problem. It can be too small for a large betta fish, making it uncomfortable to live in. Especially, if you want to decorate it much with many decorations,
Simple, straightforward design
Come with good starter kits
LED lights are faulty or do not last long
Too small
4. Tetra Crescent Acrylic Aquarium Kit
This tank comes in two different sizes: 3 gallons and 5 gallons. You would have more choices for your fish.
This tank has a simple but 'modern' and neat design. The lid on top is see through with a few cutout spaces so users can easily set up and thread a heater or other accessories if they want.
This tank does not have a natural system cycle like the aquaponics to self-clean the tank. Instead, it heavily relies on pump and filter. The tank comes with a mechanical filter that pulls water from the tank to push it through the filter cartridge. The dense and dual-sided mesh of the filter will catch the debris and waste from the tank, helping the users to not have to manually clean the tank as often.
This tanks also comes with a special feature called the Tetra Crescent Acrylic Aquarium Kit. This kit uses Ultra-activated carbon in order to superiorly remove odors and discoloration of water if necessary. As complicated as the name of the system sounds, the set up is simple and easy. There is also a very helpful guide with clear instructions in the tank package.
The problem with this tank that many users find annoying is the cutout spaces on the lid. These cutout holes seem like a smart idea. However, the positions of the empty spaces make it difficult for users to set up cords for heater or accessories the way they want sometimes.
Another complaint is about the quality of the filter. As complicated as the system sounds, it is reported to be broken down after a short period of time.
Come in multiple sizes
Modern design
Com with mechanical pump
Tetra Crescent Acrylic Aquarium kit
Inconvenient design
Complimentary filter breaks down easily
5. Tetra Waterfall Globe Aquarium
The first recognizable feature of this fish tank its round, globe-like appearance and its small size. This tank is only 1.8 gallon in size, making it a convenient and pretty decoration for your office desk or countertop.
It is a equipped kit that comes with pump drive power filter, lighting, and cartridge based filtration. The filtration system is already built in and hard wired to the tank so you do not need to spend time and effort trying to set it up.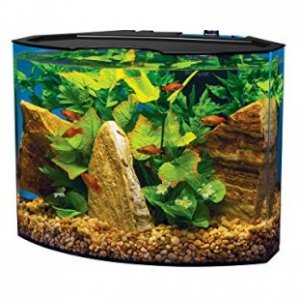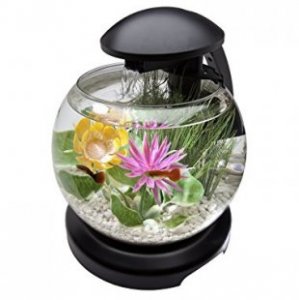 Source: aquariumadviser.com
Share this Post