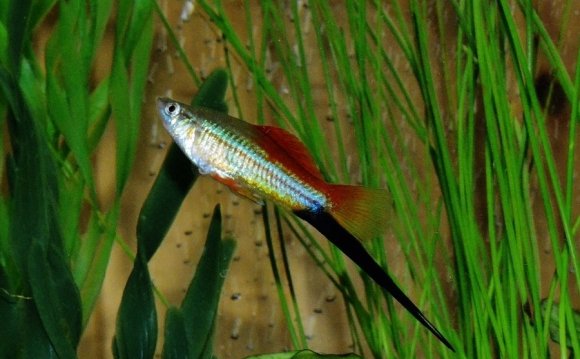 How do we ever decide which fish are the best? Well, they're all the best in their breeder and owner's eyes. 🙂 But we have to give the awards to only a few! So the IBC has written official exhibition standards that establish what the "ideal" for bettas should be in both colors and forms. The fish at a show are judged against each other based on which of them most closely match the standards. Remember that because sometimes these standards are an ideal, there may in fact not be any fish who match it. They're goals to strive for.
The IBC Exhibition Standards are made available to the public for promotion of the betta hobby and encouragement in developing show fish. They are not to be altered in any way. The IBC Standards are updated annually. Changes just made for the season are marked in red. Please check on the each show year for new copies of the Standards. New versions are usually released July/August each year. If you would like to make suggestions for changes, please see Form 12 and email the specifics to the IBC Judging Chair (jbchair@ibcbettas.org).
Ethics of Showing
Showing is very much on an honor system for the people entering the shows. We expect that all other people entering the show will also hold to the high standards of breeding and showing. This includes following all the rules set out in the IBC Exhibition Standards, no matter if anybody can see you following them or not. We expect that the bettas you enter in Groups A and B (Self-Bred and New Breeders) will be bred by yourself, and grown to show size and trained for showing by yourself, using your own fishroom resources. If using shared resources, you'll enter as a family or collaboration.
(Areas 3 and 6 have a show exemption on bred bettas, and fish shown in Group C – Purchased are not self-bred. Purchased fish must, however, be held by the owners for at least one month prior to showing.)
The IBC respects bettas in their natural state and strives to have the best possible fish from the work of breeding show lines. We expect the shown fish in all groups to be in their natural, originally bred condition and their fins are not "trimmed" nor any other alterations. We expect all fish to be treated humanely and respectfully, and we do not condone fighting bettas nor abuse of bettas. We expect entrants to engage in fair and friendly competition without interfering with fellow competitors.
Source: www.ibcbettas.org
Share this Post