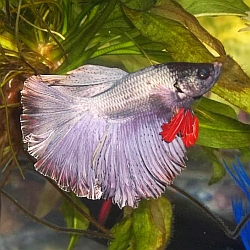 Betta Fish Center > Aquarium Setup > How Important is the Gravel in Your Betta Fish Tank?
Most new fish owners do not realize how important the gravel or substrate on the bottom of their tank really is. For those that occasionally buy a betta fish for their child as a pet, there is not much thought given to this at all. They choose gravel according to color, size and price and then wonder why the fish dies soon after purchasing it.
Why is gravel important?
The gravel in your Betta tank plays an important role in the biological cycle of your overall aquarium. Along the top of the gravel on the bottom of the tank, bacteria grows, which is important for breaking down waste that builds up in that environment. Another function of gravel is to hold down any decorations or statues fish owners put in the tank as well as anchor plants to the bottom.
Gravel Color
The best products for your gravel would be the natural type and color for your tank. Although, as previously stated, some fish owners choose bright pinks or reds, those colors compete with the color and beauty of your Betta and other fish in the aquarium. Also, due to the natural environment Bettas love, neutral gravel will feel more normal for your fish and actually reduce stress on them in general.
Gravel Size
Avoid purchasing gravel that is large-grained. Unfortunately, even though sometimes it's more beautiful to look at, these larger sizes trap uneaten food, which can rot and negatively affect the overall health of the aquarium water. Also, aquarium plants do much better with small-grained gravel. Ideally, the best you can do for your fish and plants is to mix gravel about 1/16 of an inch in size with 1/3 coarse sand. This provides what the plants need and is easy to maintain as well.
Betta Aquarium Plants
Do you want to decorate your aquarium with live or fake plants? If you decide you want a more natural environment, including live plants on the bottom of your tank, then use approximately two inches of gravel. If you opt for fake plants, plastic or other man-made materials, you will only need about one inch of gravel. Considering that a 5-pound bag of gravel will cover about 40 square inches if you decide on fake plants (one inch of gravel in depth), to cover the bottom of a 30 gallon tank you will use about seven bags of gravel that weigh five pounds apiece.
Remember that every aspect of the home you build for your Betta Fish has a purpose. To keep your Betta and any other fish you add to your aquarium in a healthy state, you must consider the small details. Gravel is more than just bottom filler. It adds to the overall well being of your fish as well as the beauty of your aquarium.
Source: www.bettafishcenter.com
Share this Post