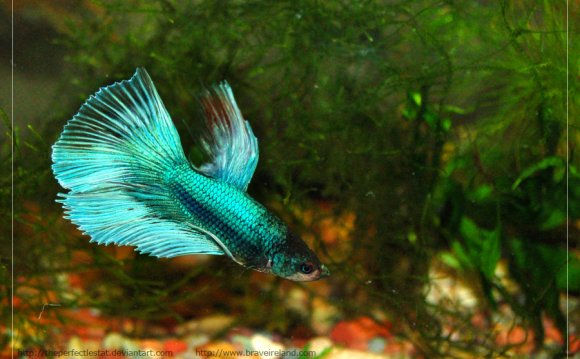 This PetSmart Fancy Half Moon Male Betta is one of the most spectacular fish you could ever dream of owning. This Betta features a variety of bright colors, gorgeous fins and, of course, a tail in the shape of a half moon. In short, he will make a spectacular addition to your home.
Species: Fancy Half Moon Male Betta
Environment: In home aquarium, bettas prefer to have some plants or other decorations that provide hiding spaces
Maturity Size: 3 in
Average Lifespan: 2 Years
Experience Level: Beginner
Activity: Low Acto
Eating Characteristics: Carnivore. Feed sparingly once a day.
Warning: Cannot be housed with other male bettas.
Vet Assured™ Promise: All pets purchased at PetSmart are raised under our exclusive Vet Assured program and come with a 14-day satisfaction guarantee. Vet Assured is a program designed by PetSmart veterinarians to improve the health and well-being of our pets. The program sets standards for the care of our pets by our live animal partners and store associates and establishes strict standards for the monitoring and prevention of common illnesses found in pets. PetSmart makes significant investment in the care of our pets and it is apparent in the quality and comfort of our pets in our stores. However, if your pet becomes ill during the initial 14-day period, or if you're not satisfied with your pet for any reason, PetSmart will gladly replace the pet or refund the purchase price. Please keep your sales receipt and return the pet to the store where you purchased if needed.
Source: www.petsmart.com
Share this Post