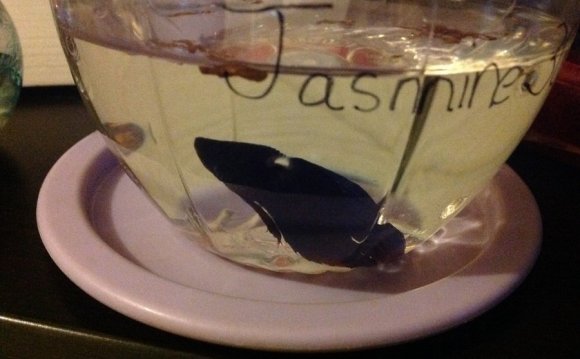 I have had my betta fish for 1 year now and my family and i are very attached to him. He hasnt been swimming much in the past week or so, he only stays on the bottom of the tank, laying sideways and only makes the effort to swim when we feed him, but struggles a lot because he doesnt really use his tail to swim. At first i thought it was SBD, but he doesnt have a bloated stomach. I dont know what to do except i already changed his water and now i'm going to try the Pea treatment. Would that work?
Further communication on this topic has been disabled.
hey
Whats your water parameters like?are ammonia, nitrite at 0 and nitrate below 40 ppm?
I dont think hes sick because he still eats.you can try the pea and see if it works.generaly in cases like this it is caused by out of whack water parameters.
Peat moss will release tannins, which soften the water and lower pH. Neither of those things will solve the problem. When you changed water, did you change all of it. If so, that's the cause of the problem. Fish can't tolerate sudden changes in water parameters, so it's best to change only about 25 percent of the water at any one time.
I'm really new at this and did change all of the water at once. Now my betta is listless and not eating. Any suggestions on how to get the water back to the right parameters?
Hi there betta max.
Since you did such a big water change, your set-up probably needs cycling. Because you're new to fish, you can read up on the nitrogen cycle here.
It would be a great help if you could let us know your water parameters ammonia, nitrite and nitrate levels would be great. If you do not have test kits then your local pet store will probably do the tests for you, if they do please get them to write the results down for you and post them on here.
at almost all stores in the pet section they should have a medium sized bottle and inside that bottle are strips. on the bottle their is a pull back tab and theres one for saltwater and freshwater. you put one of the strips in your aquarium and after 3 seconds pull it of and lay it down right away. the pull back tab on the bottle will tell you if your nitrate etc. is safe by the color on each section.
This works for my betta fish. You can try to take away some of the water and add in some warm water, not hot water. Then you may see your fish starting to be active. If the water is too cold, it will stay at the bottom of the tank, not moving. If it is too hot, it will move around, more active than before. That's all that I can help.
If its just a bowl without filter or heater than the betta fish will most likely noit live as long. All the people in front of this post have had really good awnsers, have you used the aquarium salt? My friend once had a betta and didn't use that stuff, well it only lived about a year...
~mackimo
your fish doesn't have to be bloated to have swim bladder disease, and your beta may just be displaying symptoms of old age
take ur fish to petco or something. i recently had a fish that died 6 days after i got her, and i got a new one who wont eat the flakes. what should i feed her? my mom thinks i can feed her african dwarf frog pellets. can i?
@AQUALOVER you shouldn't be feeding your Betta flakes, normally they are pellets. Sometimes Bettas reuse to eat when you first get them. starve them for a day and see if he'll eat the next day.
@AQUALOVER:
Bettas are picky eaters and usually will only eat food they were fed as a baby fry. It is very likely he was never fed flakes, so the only thing you can do is try feeding him other options. There are pellets made for betas, which I have used, as well as freeze dried bloodworms that my betas have always loved! just keep trying different things until you find something it likes!
For a betta fish can you have a 1 gallon tank for it?
You know what, when i bought my bettes (3 females and 2) males, the were all kept in a small tiny contaner(o.5) galloon++. No filter or air but they all seem quite healthy, though the water is quite dirty... so now i keep it in a fish tank with an air.pump and they seem quite happy always coming to the front when i enter the room. And they are also not picky eaters as the eat whatever i feed them
No, don't do the Mirror, your Betta may only kill itself by attacking the mirror because he or she thinks there is another Betta in the tank and is taking their "territory"
If you are new to fish keeping I encourage you to check out the blog I posted earlier today. I am also relatively new, but have read many of the threads and asked more than my fair share of questions on this site. I collected all of the things that I wish I would have known (or known to ask) in the blog
What are the water readings?
swim bladder disease feed it peas it will help him
HI MY I NEED HELP I'VE HAD MY BETTA FISH FOR ABOUT 5 YEARS BELIEVE IT OR NOT . IM VERY ATTACHED TO HIM BUT HE HAS BEEN STAYING AT THE BOTTOM FOR THE LONGEST TIME . HE EATS SOMETIMES. BUT NOW HIS EYES ARE WHITE ??? BUT YES HE IS STILL ALIVE ! HE MOVES AND TRIES TO SWIM TO THE TOP BUT DOES NOT SWIM AROUND ANYMORE
what do you have him in? or should I say what is the size tank you have him in? what are your water parameters? (ammonia, nitrites and nitrates) how often do you do water changes and how much...never change 100% and never take your fish out to do water changes. once we have answers to our questions then we can help you with your questions.
I'm locking this post. The op is likely long gone, and there is no new info here. Commenting on very old posts just pushes current problems further down the list.
Source: www.myaquariumclub.com
Share this Post